Top 5 at 5 (at ….12:53 for some reason) – Edition 4 – Tight Ends

In Edition 4 the Tight Ends, some say it's the quarterback's best friend(others say it's the LT). According the OOH stats however they don't seem to be very popular. Anyways in reverse order …

5. George Kittle – New England Patriots
With 5 TD's this year for a team that's 4-10 is he the glue holding New England together? The 49'ers moved him on and he seems to have found a home in New England however the pieces around him need to perform better for him to truly excel.

4. Rob Gronkowski – Philadelphia Eagles
What kind of TE list would this be without Gronk? Heavily sought after in the off-season finally settling on Philly to create a great tandem with Zac Ertz. However he has seemed to of killed off the Zac Ertz hype, stealing his targets. Could this be the end to a great career, who knows?
3. Seth DeValve – San Francisco 49'ers –
With Kittle jumping ship to New England, there was a position in San Francisco to be filled, the 49'ers picked up DeValve from FA in the off-season and he's certainly filled Kittle's boots with 5 TD's and nearly 600 yards including an impressive 16.7 yards per catch he's the guy to go to on 3rd down, he looks only to improve with a strong team around him.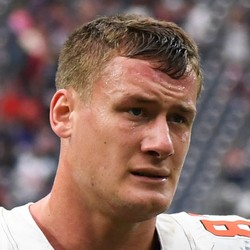 2. Dallas Goedert – New Orleans Saints
With a league leading 57 receptions for all Tight Ends and Wide Receivers this guy has certainly become Mr Reliable for Josh Allen, just under 50% of his passing TD's have been to Goedert and just missed top of this list.

1. Evan Engram – New York Giants
Leading in TD's, Evan Engram is a young talent who's excelling in this promising offense the 25 year old superstar has a league leading 8 TD's from the Tight End position and is one of Newton's favourite targets also leading the lead in yardage for the position with 745 yards.