Top 5 at 5 – Edition 7 – Defensive Tackles
Again with the Defense these guys can demand double teams or they wreck your run game, Edition 7 – Defensive Tackles. Lets get it started in reverse order…
5. Larry Ogunjobi – Cleveland Browns
The first of 5 big guys Big Larry is a terrific run stopper up in Cleveland with 93 Block Shed and weighing 305lbs he demands double teams if you are running up the middle and put up a nice 5 sacks for the season.
4. Vita Vea – Tampa Bay Buccaneers
This superbowl winner is an absolute man mountain of a man, standing at 6'5 and weighing in at 344lbs if you don't double team him, you won't have a run game. I've shook this guys hand in real life (no not the claw) and they're like shovels. with 98 strength … yeah never mind just double team the guy! (Real life photo)
3. Raysean Barton – Carolina Panthers (Classed as DT for article)
Partially classed as a DT since he started out in the position before being moved to RE however this guy has great DT stats with 90 Block Shedding and 94 Strength, he looks to dominate the D line for years to come.
2. Joey Bosa – Carolina Panthers
The former Edge Rusher swapped Defensive end for Defensive Tackle and dominates at both. The Panthers operate a 4-3 system allowing Bosa to rush the passer from the interior and his quickness and 98 finese moves make sure he's still dominant racking up 12 sacks from DT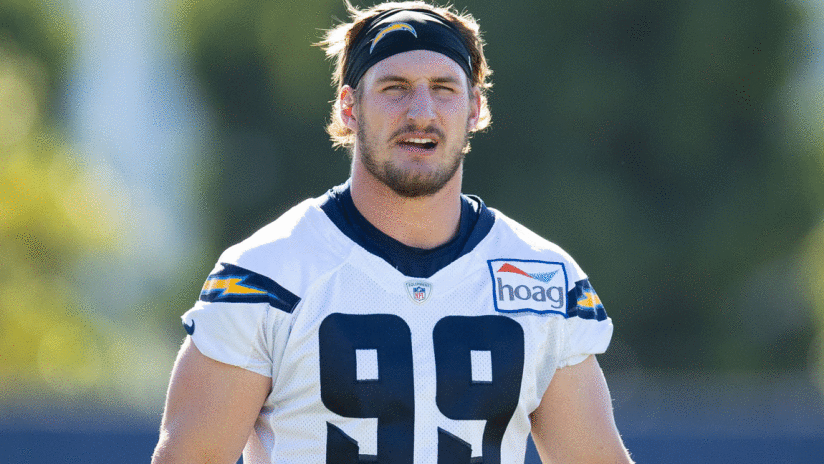 Aaron Donald – Los Angeles Rams
Could there really be anyone better at this positon? Another member of the 99 club Donald is dominant from DT assmassing 13 Sacks league leading from all DT's. Being only 6'1 it allows him to stay low and power over centers and guards with his 98 Power Moves.