Madden Ooh Week 3 Blog
Game of the week – Baltimore Ravens @ Kansas City Chiefs
The 2-0 reigning champions travel to the 0-2 Chiefs in what at one stage last season, looked like it may have been the AFC championship game, before devastating playoff loss by the chiefs to San Diego in what was a Ryan Fitz style performance for Alex Smith with 7 picks. A poor start to the season for the Chiefs leaves them looking to get back on track at home in what is a key game at this early stage of their season. The Ravens have started their championship defence in stellar fashion and find themselves at 2-0 with the defence looking as elite as their qb.
The surprise appointment of Rex Ryan caused many the stirs in the offseason in Kansas however he will be looking to find his feet in week 3 despite the tough task ahead of him with the stout Baltimore D that will take to the Arrowhead field.
I reckon this will be a tight one, but the Ravens will edge it in what will be a tight encounter. A "perribomb" may just be the difference in this one.
Offensive Player of the Week – Doug Martin
It will be a big week for the Buccaneers running back who will rush for a season high 145 yards and 2 touchdowns
Defensive Player of the Week – Elvis Dumervil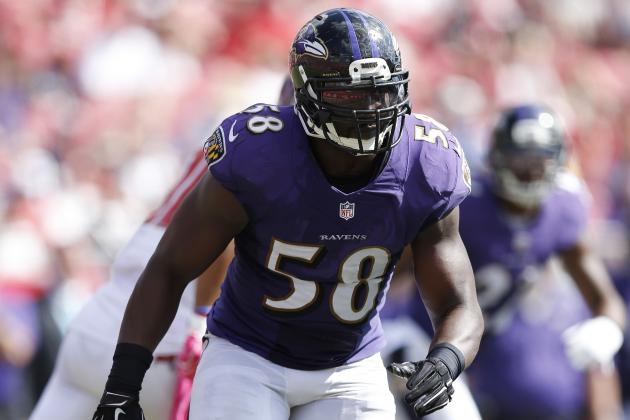 Another important week in the key matchup against Rex Ryans (lol) Chiefs, the veteran OLB will have a monster game and record 2 sacks to double his season tally and will record a total of 8 tackles and an interception.
Team of the Week – Atlanta Falcons
With the 4th highest number of passing yards in the league through week 2, Matt Ryan will be looking to light it up with his star Julio at WR and the Atlanta defence will be looking to pile pressure on a struggling Aaron Rodgers whose balls, are at this stage, so overinflated, its landed him on the trade block in Green Bay. With a league high 9 ints, the Falcons will be looking to their defence to get at Rodgers force mistakes.
Week 3 Matchups & Winners
NYJ @ TB – TB
TEN @ CLE – CLE
CAR @ NYG – NYG
GB @ ATL – ATL
MIN @ NO – NO
SF @ HOU – SF
DET @ CHI – CHI
WAS @ DAL – DAL
DEN @ PHI – PHI
BAL @ KC – BAL
JAX @ BUF – JAX
ARI @ LA – LA
SD @ OAK – SD
SEA @ IND – SEA
NE @ MIA – TIE
CIN @ PIT – CIN