Chances are if you read, watch or listen to something NFL related from the UK you will have come across our very first guest for our Q & A sessions, with regular stints on the BBC, a weekly column on espn.co.uk and now a brand new podcast airing 4 time a week (The Nat Coombs Show) it's a surprise he has time for anything else!
That being said he is also thoroughly nice chap and agreed to take time out of his busy schedule to answer some questions for us put to him by our community. The answers were provided before week 2 so any glorious after-timing is purely coincidental.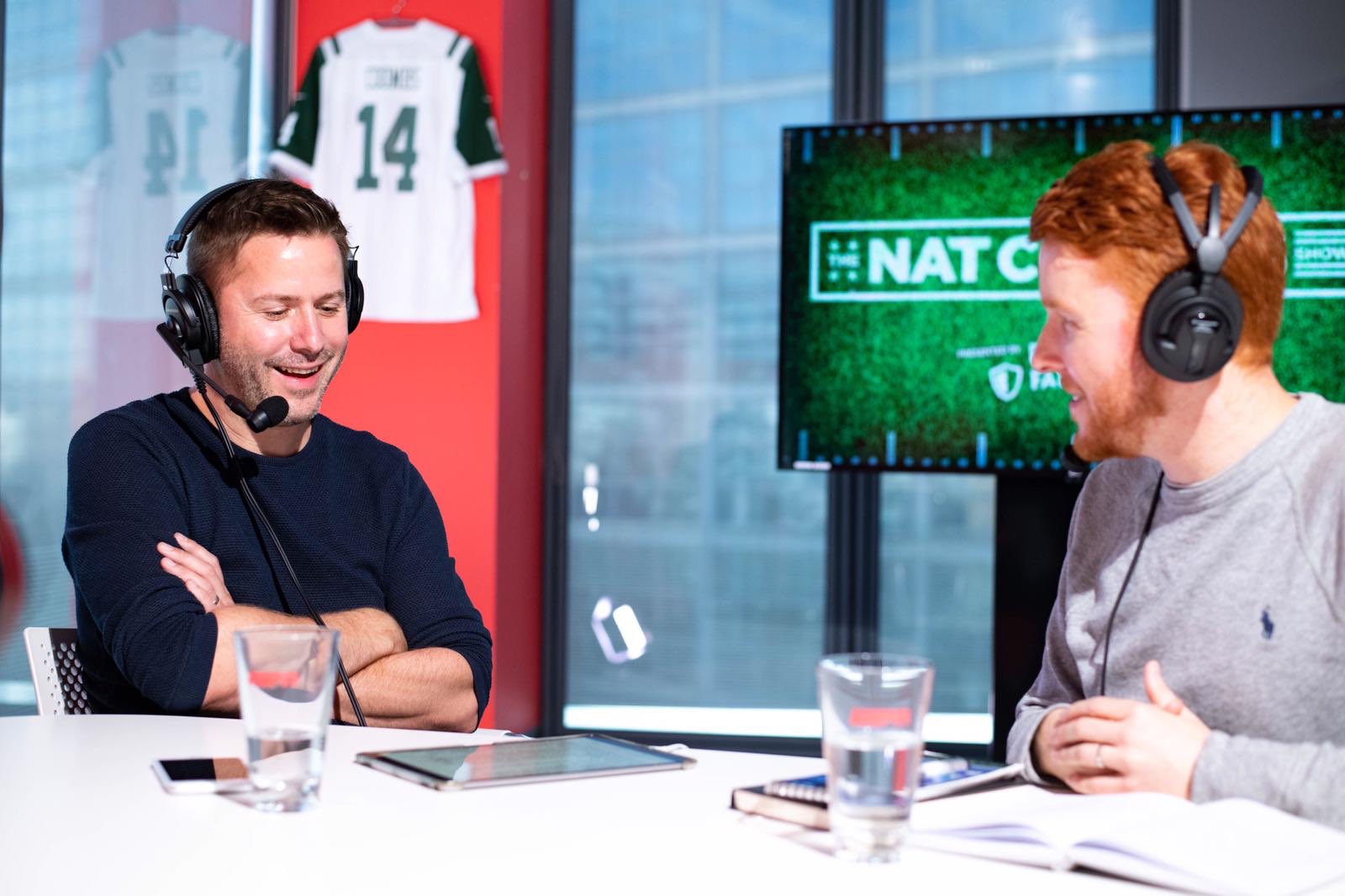 O.O.H: Which team do you think will have the biggest turnaround in fortunes from last year / which shock team will not make the playoffs – and why?
N.C: Team with the biggest turnaround in fortunes is a double edged sword. Teams that were playoff bound last year but I think could miss out? Clearly New England are gonna struggle….OK, seriously out of the playoff teams last season, Indy have clearly been deal the hardest blow with the retirement of Luck, I have questions on Seattle repeating, and Chicago have to find a way of getting the offense to at least a competent degree to support that sensational D.

Sleeper teams that could make the playoffs that didn't last year? Titans and Bills in the AFC, though both will probably need to go the hard way and nick a wildcard. I think the Lions may be more competitive that some are suggesting.
O.O.H: Is this season Jimmy Garoppolo's last chance to prove himself as a Starting Caliber QB in the NFL? He's only started 8 games in San Francisco, and although he went 6-2 in those games, the argument could be made that 5 of those wins were against poor (or in the case of the Rams, resting) teams. And, If he stays healthy, can he take SF to the big game?
N.C: I always have liked Jimmy G and I think it's frankly ridiculous that he's gone from being the golden boy saviour of a franchise to on the hot seat in such a short period of time. He's a class act, he'll come good again. Situation is so critical though – very few QB's succeed irrespective of a dismal situation, whilst plenty of average QB's flourish because of the stars aligning around them.

So if it's not to be at San Fran, I still see him as an NFL starter. But everyone needs to cool their (NY) jets a little and give him time….
O.O.H: Do you think the Steelers offence can continue to produce at a top 10 level without Brown & Bell?
N.C: The Steelers offense is intriguing. Big Ben has some miles on the clock alright, does Juju = AB (a bona fide number 1 receiver) and does Conner = Lev Bell?
Clearly it's not just whether Juju can step up to number 1, it's the dilution of the 1-2 punch. I do love the anti-RB dialogue though – elite players like Zeke, Saquon and Lev Bell are as instrumental for me as a number one receiver.
I still say Pittsburgh makes the playoffs (OOH: This was answered before Big Ben went on IR). But they're not the power they were 18 months ago.
O.O.H: Is this the year someone steps up to replace the Pats at the top of the AFC East?
N.C: Not a chance!
O.O.H: Which of the young AFC East QBs do you think will have the best year – which one would you want to build a franchise around moving forward?
N.C: I really rate Josh Allen and would take him over Darnold. Keen to see Rosen given a chance too – see my point above on situation. A lot of college sharps I know, like Ben Isaacs, were big on him going into a draft that was only just over a year ago.
O.O.H: In your time spent working with the NFL in the UK, what are the biggest changes you've seen. Do you believe it will become popular enough here to enter the mainstream. Do you think its still growing in popularity here?
N.C: It's extraordinary how much access we all have to content now. When I started broadcasting (for Channel 5 back in 2007) there were limited podcasts, nowhere near the social media communities you have now, specialists on every team have appeared with people trying to find their niche, so the access to information is remarkable.
As a result the visibility of the sport has increased dramatically over the last few years but is it a mainstream sport? And does that matter?
I guess the support ESPN are giving my new show – The Nat Coombs Show – (plug alert) is representative of a cut through. Sure, it's ESPN, but it's the UK operation driving it, and giving the show, and my column, equal footing with other key sports on the site like Football, Cricket & Rugby.
Commercially, we've secured a strong partnership – so all of those things lead me to feel confident that the sport is going in the right direction here.
O.O.H: Which London game excites you the most this year?
N.C: Really looking forward to seeing the Rams, particularly as they misfired at the Super Bowl. I'm fortunate enough to be anchoring the two Wembley games for BBC TV, so contractually have to say both of those are the most exciting.
O.O.H: Does Bill O'Brien have too much power for a man on the hot seat?
N.C: I reckon the Texans make the playoffs. You have to say they are immensely watchable, even if sometimes that's because of a porous line/Watson hanging on too long so he gets in a jam and Bill O Brian seemingly clock managing using one of those lucky dice predictor things.
O.O.H: Where is the best place you've seen a game live – either for atmosphere or general gameday experience?
N.C: Hands down, best atmosphere I've done a live game at was the Super Dome for Saints, Vikings back in 2008 believe it or not. Super Bowls are always special of course, the London games will have a key place in my heart and have to say loved the vibe at the Twickenham games, but yep, New Orleans all the way.
O.O.H: Who is the nicest guy you've met working in the NFL? Who, past or present, would you love to get talking to over a beer? What was the most uncomfortable interview you've ever done?
N.C: There are so many great people I've been able to work with over the years both in front and behind the camera, far too many to mention but you know who you are!In terms of incredible moments in that respect, meeting and interviewing Montana for sure, and Jim Kelly who is a hero is so many ways. I've been quite lucky with difficult interviews in so far as I haven't had too many. Famous last words!
So thats a wrap, massive thanks for an awesome Q & A, Nat, we really appreciate your taking the time to respond to some of our questions. You can follow @NatCoombs on Twitter or catch him & the gang on the Nat Coombs show as they get you up to speed on all the latest from the NFL! 4 shows a week dropping all season long! Listen & subscribe right here!